I really enjoy Meg Cabot's books (especially the
Heather Wells series
). Not only is she prolific (writes a TON), but her stories are fun escapes. This weekend I finished the first book in a her new series: "
Abandon
." It's a "dark re-imagining of the story of Hades and Persephone." (From Greek mythology, where the god of the Underworld kidnaps Persephone.) I only know the basics of the Hades/Persephone story, but from what I do know, Cabot's re-telling is definitely new--and, eventually, I think it'll be fun. This first book was a little all over the place, giving us the background of Pierce (her death and her escape from the Underworld) and the mysterious John Hayden. The book was good, but it had a lot of back and forth jumps in time. I'm all for flashbacks and whatnot, but in some cases (most cases actually), I just want to get from Point A to Point B. I prefer telling stories that way, so I think I like reading them that way as well. Regardless, the strange of structure of this novel didn't make me dislike the book. Quite the opposite. I give it a B+. I do recommend it and would love to hear from anyone who's read it too. Did you like it?
In other news. Editing is drrrrraging. I have managed about 5 pages a day (I edit by-hand during my lunch break), but I haven't been able to put those edits into the computer. I guess I'm still making progress, right? I'd hoped to have it finished by now, but that's just not happening. Oh well, I guess you can't really rush these things. I did start the outline for book two (I haven't decided if it'll be just a sequel kind of thing or a trilogy). PLUS... I need to rename it: "Surrender" just doesn't really work 100%. My initial title (when I started writing this novel when I was in high school) was "A Fallen Gift." It still works, but I wanted to veer away from "fallen" in the title because it seems like most angel/demon books dealing with fallen angels has "fallen" in the title. So, I searched my brain for something different, but maybe I just wasted time. Another idea: "The Fallen Guardian." *Sigh* I don't want it to seem like I'm just "going along with the trends in publishing." I didn't write this novel because paranormal YA is so hot at the moment. I just love it.... who knows what will happen with this. I can only hope good things. If you're interested in reading, check it out
here
.
I have so much work to do. My new goal is to be done with edits by September 1 and have the manuscript out to agents a few weeks after that. Who knows if this will happen. I've got a lot of life things going on in the next few months. First, I have to find myself a cheap apartment. Second, I need to figure out if I can survive on one job or if I'll need to keep a part-time evening job, which will totally cut into my writing/editing time. I'm so depressed by that thought.
Another thing I'm depressed about is this missing chapter in "Hostile Kisses." For the life of me, I can't understand what must have happened to it, or how it disappeared. I did look through a lot of my back-up disks, but it looks all the same. Sad thing is that I can't remember what computer I used to write that story. A mix of computers, I think. I really hope that I can track it down, but I'm afraid that it might be lost forever. I may have to rewrite something later on after I take "Hostile Kisses" down from FP. I think the next one I'll post is "Chemical Games." After that.... I'm just not sure. I don't think I'll be re-posting the KM series on FP. I know this will make a lot of people unhappy, but I'm so proud of that series (and excited to work on it again), that I think I'd rather pursue self publishing (either through hard copy or ebook).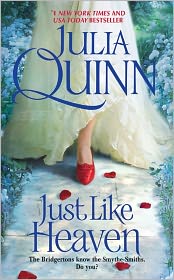 Anyway, that's all the news I have at the moment. Read "Abandon" it's worth it. Next on my list: "
Just Like Heaven
" by Julia Quinn (my favorite author for Victorian England romance novels, think Jane Austen, but with kinky scenes). :c) She's my inspiration for stories like "My Darling Bunny" and the still unfinished "Arabelle Wild."