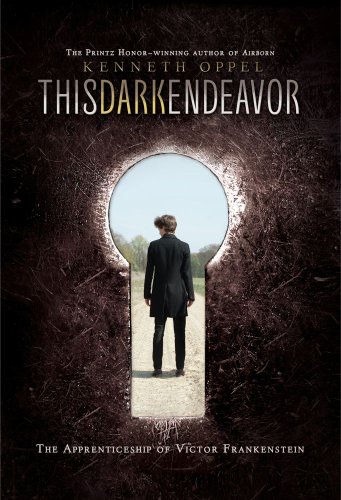 So, I'm about 20 pages from the end of this book but I thought I'd blog about it now. THIS DARK ENDEAVOR by Kenneth Oppel is a prequel (of sorts) to the life of Victor Frankenstein (based off Mary Shelley's character in FRANKENSTEIN). In this novel we get to follow the young sixteen year old, his twin brother, a family friend, and a cousin through an adventure to find three ingredient to the elixir of life (to save his brother's life). Victor is passionate (in a scary way), jealous, selfish, competitive, and loyal. An all around great character (I both like him and dislike him). The supporting cast is pretty amazing too. I love Oppel's writing style and can't wait to read more of his work, including: HALF BROTHER. (I think I blogged about it being on my reading list, but I had to return it to the library before I got a chance to read much). I was easily pulled into THIS DARK ENDEAVOR and can't wait to finish it. It's definitely one that I got lost in (something I was craving). I do recommend it. It may be a part of a series, which I'll definitely follow. I'm now a Kenneth Oppel fan and can't wait to read his other work (he's pretty prolific). I actually want to read Mary Shelley's novel now. I suppose it's one of those that I should have read already... and might have in high school. I really can't remember much of those assigned books from English. I should make a reading list to go back and reread all that "boring" stuff (as I saw it back in the day).
In the past few days I've been on vacation (at home in Nebraska) and bought LES MISERABLES... now
that
is a LONG novel. I hope to read it, but I'm not sure when I'll get to it. I haven't made much editing progress since I finished up with my nook editing. I have to find my rhythm again and I already know that sitting on the couch with my lap top, while watching TV, isn't going to work.
Update:
Finished the book! It really is excellent in my opinion. The ending is fitting to how the whole story plays out. I feel inspired by this book.