A few nights ago, I started reading the third book to the "Fallen" series by Lauren Kate ("
Passion
") and I had to put it down after 10 pages. Not because it was bad (I like the series so far) but because I had a few "oh my god, this is like mine!" moments. Of course, "Passion" is nothing like the series I'm writing, but since they're both in the supernatural fallen angel/angel/demon realm, the undertones feel similar to me. And, to be really honest, if it was becoming more like my novel, I didn't want to find out. The last thing I want after the last nine months of hardcore editing is to learn that my story's "been done." Ugh... that would be devastating. It wouldn't be the end of the world, but I'd become less unique and maybe get a few "hey you copied this!" to which I would punch that person in the face because plagiarism is no joke and to be accused of it is like blasphemy for a writer (a REAL writer). So yeah, I won't be finishing Lauren Kate's series until I've got mine done. This has never happened to me before, and it makes me sad because I love a good paranormal/fantasy novel.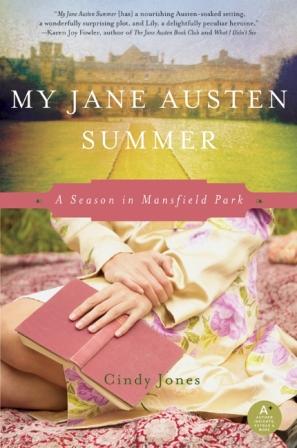 Luckily I've got some backup books to read. Right now I'm on "
My Jane Austen Summer
" by Cindy Jones. I love anything Jane Austen-y and I really would love to go to England and see the country manors and everything else a uber-Jane Austen fan would want to do. So, I'm charmed by stories with characters who go overseas for a summer and play dress up and fall in love, etc. This story follows "Mansfield Park," which is probably my second favorite Austen story. After that I'm going to start "
Starcrossed
" by Josephine Angelini (I got it Sammy!). I have one more library book waiting, which at the moment I can't remember the name of. Something about a girl who dies and starts going to dead school and thinks about killing her still-living boyfriend so he can join her. Eh. That one was a random library grab, so I may toss it out. I feel like I haven't been reading very much lately. Editing really is all consuming for me (luckily I only have about 50 pages left, plus another quick edit). In other reading news, I finished "Graveminder." I thought it was a good read (I wished there was a little less focus on her fear of commitment and more on the mystery of her future and of the dead). I'm curious about her "Wicked Lovely" series, but not enough to grab it now. I'll put it on my waiting list.
Summer movies have been a little disappointing so far, with the exception of "Harry Potter." I saw "Captain America" and wasn't that blown away. I can't wait to see "Rise of the Planet of the Apes" (the previews look awesome), "The Help," and maybe "Friends with Benefits" and "Crazy Stupid Love." Honestly though, where are all the major action movies? Is December (Mission Impossible and Sherlock Holmes) becoming the new summer?